Tämä tapahtuma on mennyt.
THE BACKSTABBERS + ATOMIC ANNIE + NEW GENERATION SUPERSTARS (UK)
joulukuu 16, 2022

-

joulukuu 17, 2022

7,00€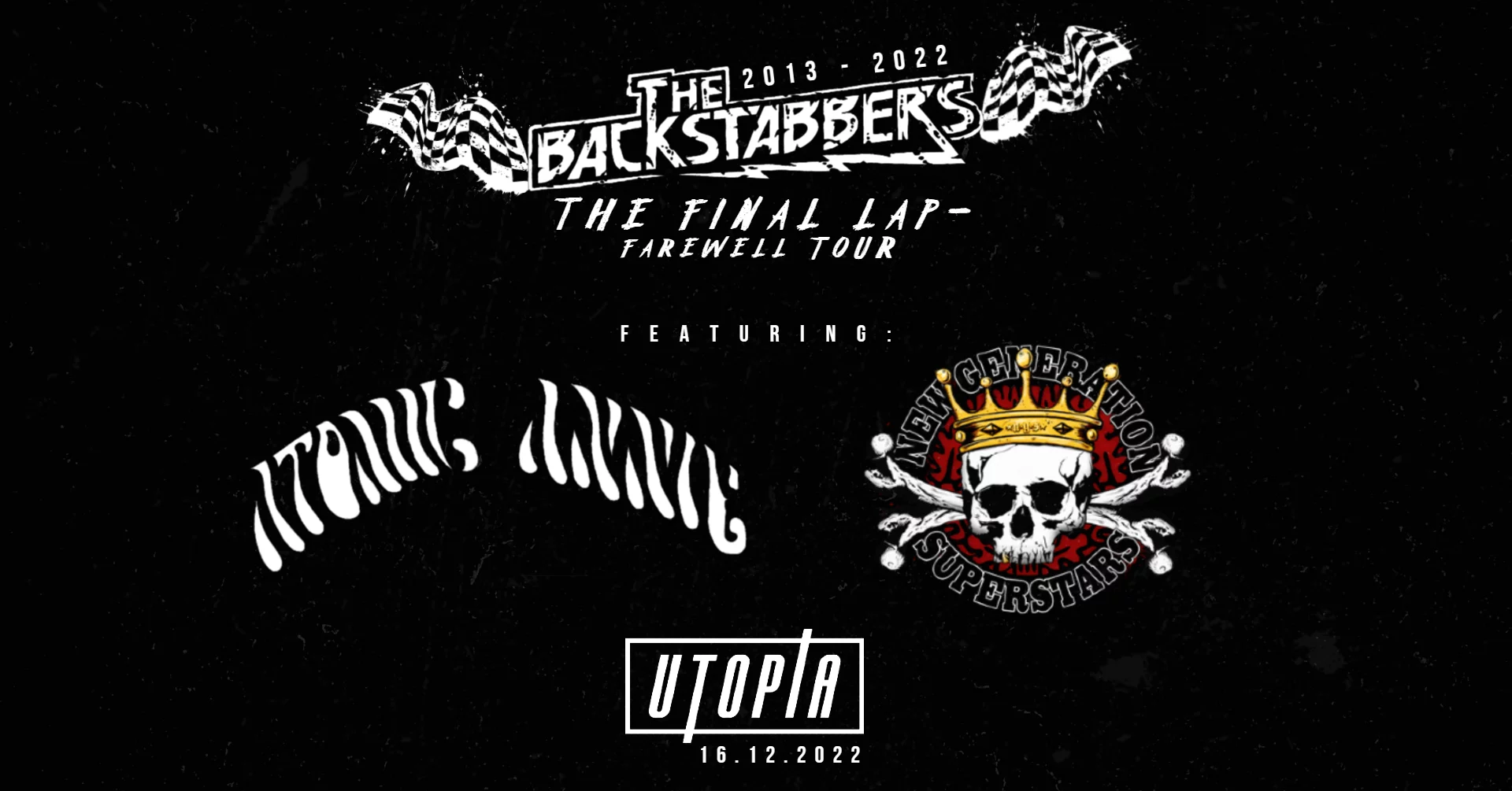 The Backstabbers lopettaa uransa ja tekee jäähyväiskiertueen! Tule kokemaan Suomen kovaäänisin trio viimeistä kertaa livenä.
21.00 Ovet
22.00 Atomic Annie
23.00 New Generation Superstars
00.00 The Backstabbers
Liput ennakkoon 7€:
https://utopiaclub.fi/tapahtumat/the-backstabbers-atomic-annie-new-generation-superstars-uk/#tribe-tickets
THE BACKSTABBERS
Vuonna 2013 Rovaniemellä perustettu helsinkiläinen bensankatkuinen rock n roll-trio. Vyön alla on yli 300 keikkaa ympäri Suomea ja Eurooppaa. Debyyttialbumi "For All The Bastards" -julkaistiin 2022 vinyylinä sekä suoratoistopalveluissa. Levy keräsi runsaasti kehuja ja maireita arvioita musiikkimediassa. Singlelohkaisut pyörähtivät radiokanavilla asti mm. Radio Rock, YleX. Bändi lopettaa nyt uransa ja tekee viimeiset keikkansa 15.12 Lahdessa, 16.12 Turussa ja 17.12 Helsingissä.
Levykauppa Äx:
https://www.levykauppax.fi/artist/the_backstabbers/for_all_the_bastards/#768651
Spotify:

Instagram:
https://www.instagram.com/thebackstabbers
–
ATOMIC ANNIE
Atomic Annie, tai ystäville vain Annie, soittaa fuzz-rockia, jossa yhdistyy bluesin melankolia ja päätä pyörittävä groove. Vaikka Annien veri vetää menneille vuosikymmenille on yhtyeen ilmaisu tukevasti nykyajassa.
Spotify:
https://tinyurl.com/559dpfsd
Youtube:
https://tinyurl.com/38r578d4
Facebook:
https://www.facebook.com/atomicannierock/
Instagram:
https://instagram.com/atomicannieband?utm_medium=copy_link
–
NEW GENERATION SUPERSTARS (UK)
New Generation Superstars continue to fly the flag for British Rock, with their No frills, No Fuss approach. Originally described as "too punk for the rock crowd, and too rock for the punk crowd", NGS have remained non compromising in playing their distinctive high octane rock, with the hooks and riffs that forge their unmistakable sound; this coupled with a relentless tour schedule over the years has built their ever faithful following worldwide, "The B*stard Division".
Spotify:

Instagram:
https://www.instagram.com/newgenerationsuperstars/?hl=en