Tämä tapahtuma on mennyt.
HousX 1 year anniversary + LUIGI ROCCA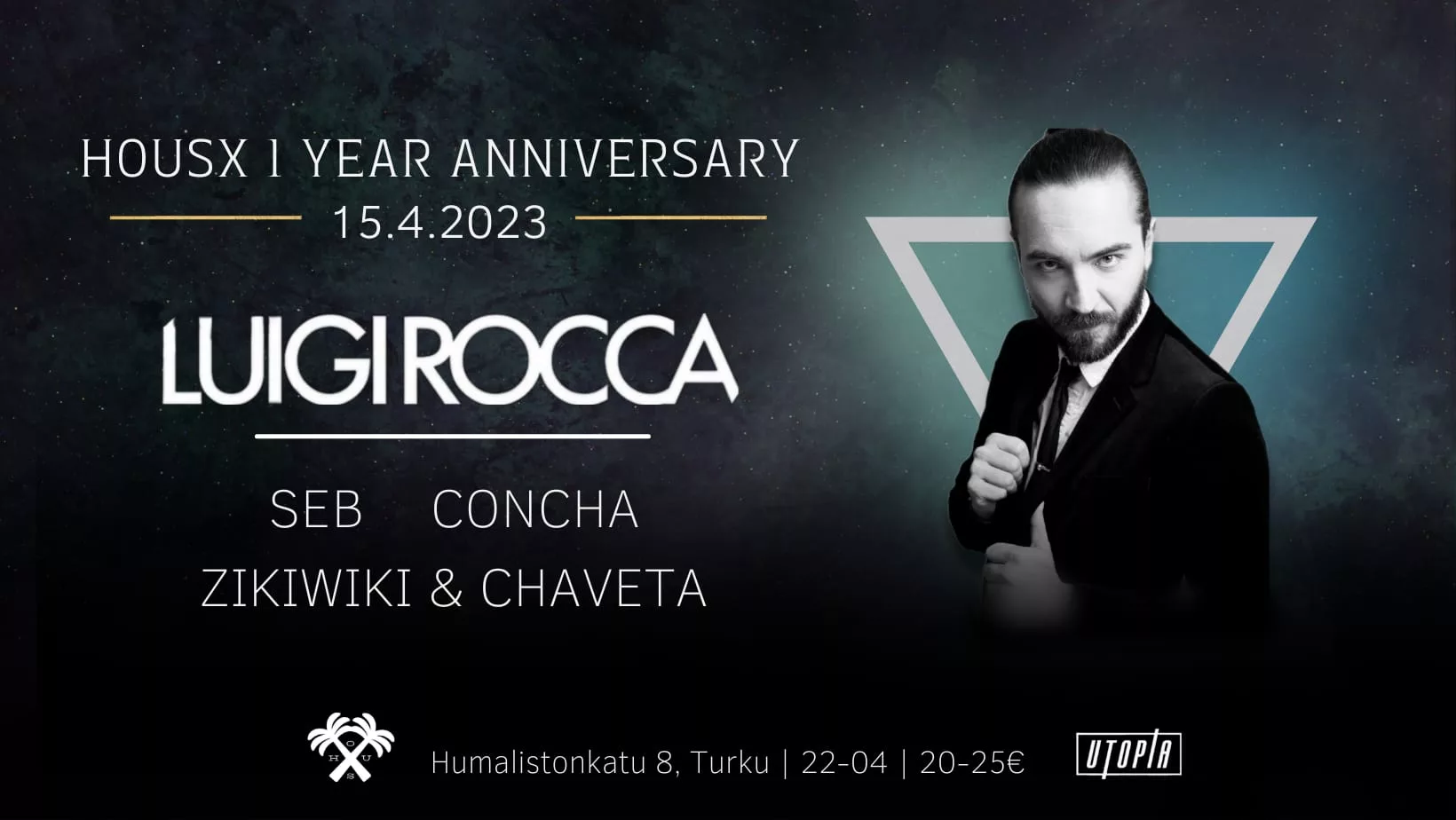 On aika juhlia HousX:n vuosipäivää! ✨
Meillä on ilo tuoda Italiasta tuttu
LUIGI ROCCA tapahtuman pääesiintyjäksi.
Musiikintuottaja ja maailmanlaajuisesti matkustava DJ pyörittää myös 303lovers levy-yhtiötä Manuel De La Maren sekä Alex Kenjin kanssa.
Näitä bileitä kannattaa odottaa, Luigilta luvassa kahden tunnin, erittäin kuumilla mausteilla ja teknoelementeillä varusteltu Tech-house setti. Eikä siinä vielä kaikki, tapahtumassa tulee olemaan erittäin mieleenpainuva audiovisuaalinen lava toteutus, joka antaa intensiivisen musiikki matkan. Valmistaudu!!
🇬🇧🇬🇧
It's Time to celebrate HousX's 1-year anniversary! ✨
We are pleased to bring our Italian friend,
LUIGI ROCCA as the event headliner.
The self-made producer and globally traveling DJ also runs 303Lovers record label with Manuel De La Mare and Alex Kenji.
These are worth waiting for, Luigi promises a two-hour Tech-House live set with very hot spices and techno elements. The event will also feature a mind-blowing audiovisual stage performance that promises to take the audience on an intense musical journey!
See you on the dancefloor!
×××××××××××
LINE UP
LUIGI ROCCA ( 303lovers, IT)
SEB (Cool Kids Listen To House)
CHAVETA (HousX)
ZIKIWIKI ( HousX, SoundXpress)
CONCHA (Joiku Musik, Hypnosis)
Visuals: Vj Turu sanoma
Photography: Arto Jaatinen
×××××××××××
Pvm: 15.4.23
Time: 22-04
Place: Utopia, Humalistonkatu 8, Turku
TICKETS:
https://utopiaclub.fi/tapahtumat/housx-1-year-anniversary-luigi-rocca/
ADVANCE: 20€
DOOR: 25€
❌ Emme suvaitse minkäänlaista syrjintää tai ahdistelua!
×××××××××××
Luigi Rocca Bio:
The Italian electronic scene has been bubbling ferociously lately with some incredible talent and none more so than Turin based Luigi Rocca. The self-made producer and global travelling DJ also runs 303Lovers alongside Manuel De La Mare and Alex Kenji. An international DJ in his own right Luigi has managed to forge a successful career
circumnavigating the world performing at some of the planets most renowned and best- loved parties, where his unrivalled dexterity behind the CDJs has led to repeat bookings throughout Europe, Asia, Australia, North and South America.
When the likes of Jamie Jones, Richie Hawtin, John Acquaviva, Dubfre, Tiesto, BobSinclar and the notoriously impenetrable territory of Chilean megastar Ricardo Villalobos have all supported your music, it is perhaps fair to say that your sound is something of a mystifying one to pigeonhole. In the case of Luigi Rocca that is exactly the problem many have had when attempting to label his myriad of releases from over the years. With a back catalogue that stretches well beyond 200 releases, Luigi (also known as Marshall) has managed to reach virtually every corner of the electronic musical spectrum that is humanly possible.
Undeterred by his lifelong drive to fuse the elements of house and techno, Luigi has spent the past 15 years pushing his sound direct from his studio in Turin to dancefoors all around the world. It was this dedication, forged with a comparable high-spirited passion
of Manuel De La Mare and Alex Kenji, which led to the formation of the trios chart topping imprint 303Lovers. An acting co-owner with Alex and Manuel, Luigi fnds time not only to pursue his own musical drives but also expand those of both future and established talent through the ever growing reach of his recording imprint. To date the label have amassed a string of high profle releases and have under his umbrella released material from a wide
selection of artists that include Chelina Manuhutu, George Smeddles, Ki Creighton, John Acquaviva, Huxley, Christian Nielsen, Ronnie Spiteri, Miguel Bastida, Rafa FL, Dennis Cruz, DeMarzo, Reelow, Ovidi Adlert, Oscar L, Raumakustik, Sef, and many others.